Head of School Announcement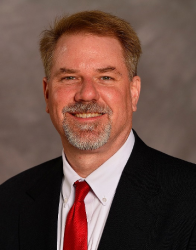 Dear Providence Community,
As the Board laid out what we believe is the portrait of a successful Head of School candidate, a few key characteristics continually rose to the top of the list–humility, visionary leader, pastoral heart, someone who loves children and is committed to classical Christian education, someone who will love our community like we do. Throughout our search, it became increasingly clear that no effort of ours would be sufficient to find someone who exhibits the characteristics we desire in our next Head of School. As in the past, we knew that we needed to turn to God in prayer and trust that He would bring the person who He chose to lead His school.
Over the past few months, we have trusted that God would distinguish, among the candidates who applied for the position, a person who would meet all of our criteria and who would continue and advance the long history of godly leadership that we have had at Providence. As He always does, God has shown Himself faithful and we are very pleased to announce that we have found a candidate in whom God has answered our prayers for a strong transition in leadership. In David Bryant, God has brought a man who clearly distinguished himself from all other candidates; who is a teacher, a leader, a pastor, a team builder who leads with humble confidence and who is passionate about partnering with Christian parents to fulfill their responsibility under God to provide a Christ-centered education for their children.
David has been involved in classical Christian education for 20 years having served as teacher, Dean of Students, Dean of Academics and as Head of School. He is currently serving as the Head of School at Regents Academy in Nacogdoches, TX where he has been a beloved leader for ten years. Under his leadership, the school has increased enrollment from less than 100 students to over 160 and, in 2019, Regents achieved the honor of being granted accreditation from the Association of Classical Christian Schools. 
David holds a Master of Divinity with Biblical Languages from Southwestern Baptist Theological Seminary and a B.S. in English from Troy University. He and his wife, Ashley, have four children, three of whom have already graduated from a classical Christian school. Their youngest daughter will graduate in 2020 from Regents Academy.

We are incredibly excited that Mr. Bryant has accepted the call to join the Providence community as our next Head of School beginning with the 2020-2021 school year. Please join us as we celebrate all that God has done and welcome David and Ashley to the Providence family. God has sovereignly worked to bring Mr. Bryant to Providence Classical Christian School and we are eager to see how he will use David's leadership as Head of School to impact our community and the lives of our students and families.
Please see below for a message from Mr. Bryant to our community.
Celebrating God's faithfulness:

PCCS Board of Directors,
 With hearts grateful to God for His direction and provision, Ashley and I are excited to be moving to Georgia to serve and co-labor with Providence Classical Christian School.
As I have gotten to know the Providence board, faculty, and parents over the past few weeks, it has become obvious to me that you are a group of believers passionately committed to providing a God-glorifying classical Christian education for your children and grandchildren and fulfilling the classical vision. The Lord has used your labors and sacrifices to lay a foundation for years to come. Now I am honored to join you in the work. Children, we are told in Scripture, are a heritage from the Lord and precious gifts from His hand.
I look forward to serving you in your stewardship of His most precious gifts, and I can't wait to get to know the children and young adults whose smiles illumine their classrooms each day (at least they did before the pandemic!). I want to thank the Providence board for placing this trust in me, and I am glad to humbly accept the responsibility of serving as headmaster. I'd invite you to pray for me and my family as we make this transition, and I pledge to pray for you as we prepare for the next school year together. 
May God continue to bless this work, and may God bless us all. 
David Bryant