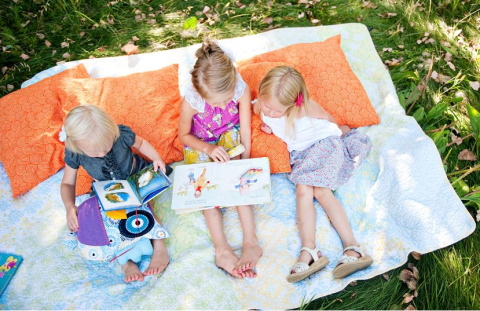 Does learning end when the school year ends?
I have a realistic answer to that question, but also an aspirational one.
First, the realistic, born of 3 decades of working with young people: for most, probably, yes. I get it, school is hard work, and it's good to take a break. New season, new rhythm. Lessons are out and pools are in. Or rather, we are in the pools.
And the aspirational, born of a never-dying optimism: lifelong learning means learning during the summer, too. We aspire to students loving truth, goodness, and beauty, and that love shaping a rhythm not just for school days but for all days, even hot summer ones full of vacations and summer jobs. We aspire to embrace the highest calling of education, which is to love God with all our heart, soul, mind, and strength.
So in that spirit, I offer to you a prayer called "A Liturgy for Students & Scholars" from the book Every Moment Holy, Volume 1 by Douglas McKelvey. This is a prayer not just for students but for all those who love learning, and one that we can pray year-round. Dare I aspire that the desires and requests in it fill the hearts and minds of Providence parents and students this summer?
Would you meditate on this prayer yourself? And then would you share it (or parts of it) with your children? Perhaps we can aspire together to being lifelong learners – and therefore, summer students of truth, goodness, and beauty – both us and our children.
—————————————
A Liturgy for Students & Scholars
May I learn to love learning, O Lord, for the world is yours,
and all things in it speak – each in their way – of you:
of your mind,
your designs,
your artistry,
your power,
your unfolding purpose.
All knowledge is your knowledge.
All wisdom your wisdom.
Therefore, as I apply myself to learning,
may I be mindful that all created things
are your creative expression, that all stories
are held within your greater story,
and that all disciplines of order and design
are a chasing after your thoughts –
so that greater mastery of these subjects
will yield ever greater knowledge of the
symmetry and wonder of your ways.
Along this journey, O Great Architect of Life and Beauty,
bless me with teachers who are passionate about the subjects
they teach, and with mentors who will take joy
in awakening in me a fierce love for those parts of your creation
and your story that they have already learned to love well.
As I apply myself even to those subjects
that I might at first find tedious,
reward my efforts with
new insights,
fresh inspiration,
small epiphanies,
and with the firm conviction that you
are at work in my heart in all circumstances,
not only broadening my knowledge,
but also shaping my heart
by patience, endurance, and discipline
that I might mature to more fitly and humbly
serve the purposes of your great kingdom.
Give me a deepening knowledge of truth and a finer
discernment of the ideas I encounter in my studies.
Guard my mind always against error,
and guard also my heart against the temptation
to compare my own performance to the work of my peers,
and so to fall into either of the twin traps of shame or pride.
Grant instead that I might happily steward what scholarly gifts
you have apportioned me, and that I might do so as means
of preparing myself for service to you and to others,
my identity drawn from your love and forgiveness,
and not from my grades or accolades here.
Open, O Lord, as you will, the paths of my life in the days yet
to come. Use my studies to further shape my vision of what my
place and call in this world might be. Begin to show me where
my own deep gladness and the world's deep need might meet.
And in that light, let me be mindful not only of my studies, but
also mindful of the needs of my peers and even of my teachers.
Let me respond with mercy to the failings of others.
Let me be in this school, even in small ways,
a bearer of love and light and reconciliation;
which is to say, let me in humility be your child.
God grant this child discernment and wisdom.
Guard me from error.
God grant this child knowledge and understanding.
Lead me to truth.
God bless the labors of this new season.
Shape me for your service.
Amen.