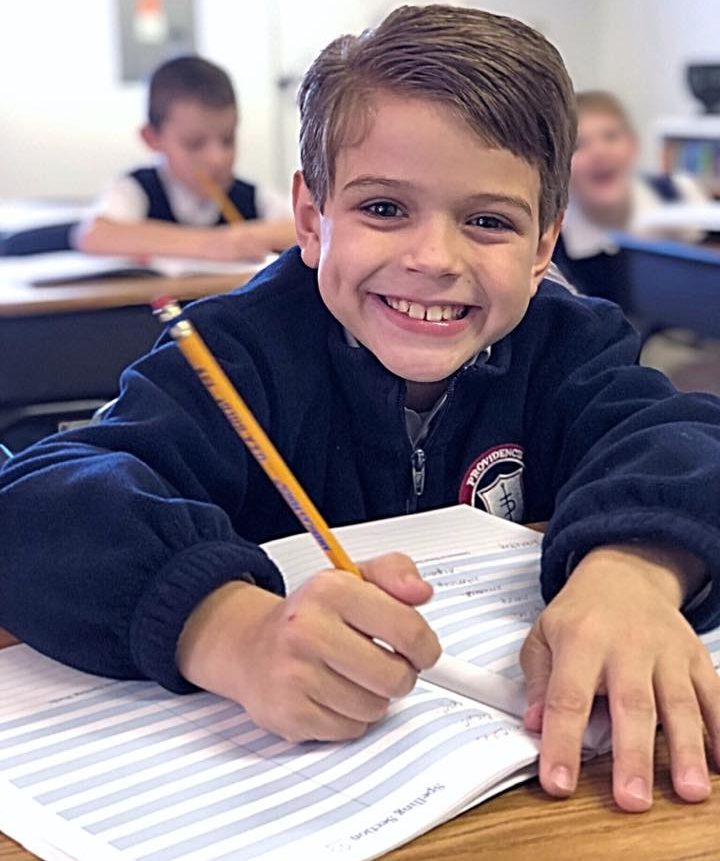 Education is the cultivation of wisdom and virtue by nourishing the soul on truth, goodness, and beauty, so that the student may glorify God and enjoy Him forever.
Providence Classical Christian School is a Classical Christian school. This Classical Christian model equips the student to live purposefully in the service of God and man. The School is distinctly Classical. As such, we employ the time-proven method of the Trivium in education, the essence of which is the Language Arts.
The goal of this Trivium-based pedagogical program is to educate students not primarily in what to think, but in how to think: thoroughly, maturely and biblically – in other words, to equip them with the tools of learning. The framework of this educational program encompasses three distinct and progressive stages of childhood development, each named for one of the disciplines of the Trivium and each emphasizing a primary mode of teaching and certain helpful teaching methods.
The Grammar stage studies the facts and rules of various subjects and disciplines in order to build a foundation of knowledge. Questions of who, what, where, and when are the focus.
The Dialectic stage brings factual data into ordered relationships, both within and across subjects and disciplines. The goal is to equip students to detect and correct fallacious ones. This stage addresses the questions of how and why, and includes study in formal logic and the intensive study of classical languages.
The Rhetoric stage seeks to produce students who can use language and marshal arguments, both written and spoken, to express their thoughts precisely, eloquently, and persuasively. It includes the study of formal rhetoric as well as biblical doctrine and apologetics.
The School is distinctly Christian. As such, we believe:
that parents are responsible to educate their children in the Lord;
that fathers are the God-ordained heads of their households, and that whenever possible, each father should assume leadership in the education of his children;
that biblical discipline, the encouragement of an obedient child and the correction of a disobedient child, is a critical and necessary part of education;
that the role of formal educators is to be in loco parentis, "in the place of the parent," in other words, that such educators are the delegates of the parents, assisting them in the education of their children, but never usurping their God-given parental prerogative and responsibility;
that every subject must fully integrate the Word of God and teach that all knowledge and life extend from the triune Creator God who is Lord and sovereign ruler over all the affairs of mankind; and
that God's Word is the standard in the reading, understanding and enjoyment of the world's great ideas in the arts and sciences.
Goals
Integrate subject matter, utilizing the dialectical and rhetorical strategies.
Model Christian scholarship in life and teaching.
Make copious use of primary sources.
Demonstrate proficiency in oral and written communication.
Provide a foundation for a liberal arts education.
To learn more click on the links below:
Foundations of Classical Language